An Uncommon Path to a Physics Ph.D.
By Eliana Shapere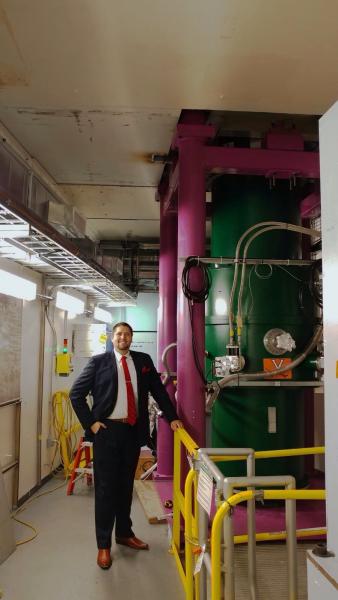 Aaron Jezghani is an inventor — although he wouldn't call himself that. He is pursuing a Ph.D. in the UK College of Arts & Sciences in precision nuclear physics, focusing on neutron decay and is fascinated by the hands-on nature of experimental physics. Jezghani spends his days designing, building, and testing all types of equipment — everything from high-voltage instruments to computer data systems.
A large part of Jezghani's doctoral experience has been the opportunities he has had to give numerous national and international talks thanks to receiving travel scholarships from the Huffaker Travel Scholarship, established by Milton Huffaker (B.S. '57, honorary doctorate '13), the UK Graduate School, and the American Physical Society.
"I just look back in awe at everything that has transpired after coming to UK for grad school," he said. "Without funding opportunities like these travel grants, there's no way I'd have been able to present at conferences as much as I have."
His most memorable talk was at the Division of Nuclear Physics meeting in Santa Fe, where the audience was so big that it was standing room only. "I had more audience feedback than I'd ever had," Jezghani said. "After my talk, I was approached by a few scientists from other countries who were interested in my ideas and work."
Collaborating with physicists around the world has allowed Jezghani to refine his research and gain perspective on how it fits into the universe of scientific progress. "Being able to travel and engage with physicists from around the world has been one of my favorite parts about graduate school. I can't put a value on how much I've learned from their insights," he said. "The funding that Huffaker provided to the Physics Department has allowed me to seek out exposure beyond our campus in a way that wouldn't have been possible otherwise."
Within the local physics community, Jezghani has helped to foster a love for science among young people. "I've spoken to middle schoolers about pursuing careers in science and I've volunteered my time as a guest scientist for STEM activity days. These experiences were ultimately my favorite, because I want to share my passion for physics, and science in general, with others," he said.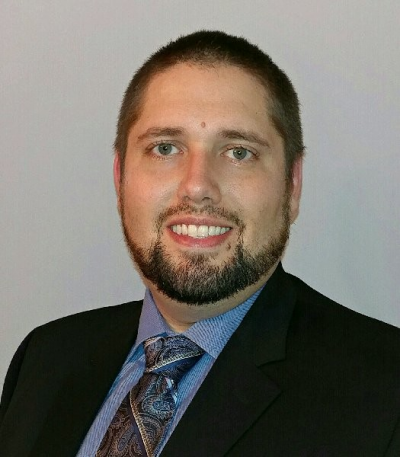 Surprisingly, Jezghani didn't originally plan on going to graduate school, instead planning to pursue a teaching certification. Thanks to the encouragement of his advisor, Dr. Ram Rai who received a Ph.D. from UK, Jezghani decided to apply for graduate school. In the end, he decided to call UK home thanks to being impressed with the physics program and professors, but also because of the culture at UK and Lexington itself.
"As part of my tour of the department, I was able to attend the 2012 Van Winter Memorial Lecture, 'Once Upon a Time in Kamchatka,' which, to this day, is one of the most enjoyable colloquia I've experienced. Then I was driven around downtown and that reminded me of my hometown in Maryland. Of course, the best experience was being able to be in Lexington the night we beat Indiana in the Sweet 16 - by the time we won the title, I knew I was going to UK."
For Jezghani, being at UK has been a wonderful experience, academically and socially. "As for the academics, I've really enjoyed being able to engage with the physics faculty; I've always found their doors open, and I've really enjoyed bouncing ideas off of them," he said. "I think the other part that I really took away from UK was the camaraderie of the physics grad students. I've heard students from other universities talk about exclusivity and cut-throat competition in their program, but I can say that isn't the case at UK."
Originally, Jezghani started college studying chemistry, never having studied physics in high school. Upon realizing that chemistry was not his true passion, Jezghani earned a degree in mathematics. After graduation, he worked a few different jobs while looking for a career that would spark his interest. Within a couple of years, however, Jezghani realized he wanted more.
"I considered my options, decided to go back to school to get another degree, and found that I just really enjoyed physics," he said. "It's hard for me to say what it is that I like so much, but I can readily lose myself in a problem or idea, and to me, that's something special."
Jezghani's experience has included many opportunities that many physics researchers and students only dream of, and not least among them, he has developed several new technologies and instruments over the course of pursuing his Ph.D. "I developed a new digital signal processing filter for high-efficiency, low-threshold triggering on pulses, and accurate online timing and energy determination. Also in collaboration with National Instruments, I created a new data acquisition platform for flexibility with simple customization and powerful debugging capabilities," he said.
"That's the beauty of working towards a Ph.D. — you come up with ideas that have never been considered before, and experiments that have never been done, and you acquire the skills and confidence to implement these solutions yourself."