Recent Physics Doctoral Students Earn Key Postdoctoral Positions
By Richard LeComte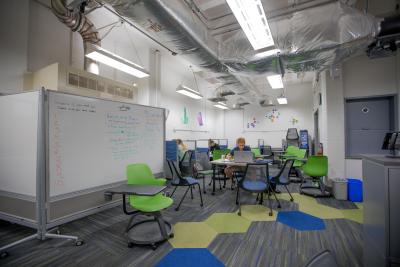 Postdoctoral positions help launch the academic careers of Ph.D. graduates and bring acclaim to their doctoral-granting institutions. Several recent Ph.D. students in the College of Arts & Sciences' Department of Physics and Astronomy have landed stellar postdoctoral positions:
Alina Aleksandrova (experimental nuclear physics) is working at the California Institute of Technology.
Mark Broering (experimental nuclear physics) has started a postdoctoral fellowship at MIT.
Ankur Das (theoretical condensed matter physics) has accepted a postdoctoral position at Weizmann Institute in Israel starting in September.
Animik Ghosh (theoretical high energy physics) will serve as a postdoc at the University of Illinois, also starting in September.
Aaron Jezghani (experimental nuclear physics) is working as a research scientist at Georgia Tech.
Suvarna Ramachandran (experimental nuclear physics) is a postdoctoral researcher at the Argonne National Laboratory in Illinois.
Joshua Abney is a postdoc at Argonna National Laboratory in experimental nuclear/atomic physics; he is working on an experimental search for an electric dipole moment of radium.
Angela Collier is a postdoc at JILA at the University of Colorado, Boulder in theoretical astrophysics. She is working on multi-scale secular dynamics, stellar bar formation, buckling instabilities, galactic evolution and dark matter dynamical evolution.
"Postdoctoral positions in physics and astronomy provide the key link between graduate research and independent research as a faculty member or professional scientist, said Alfred Shapere, chair of the Department of Physics and Astronomy. "Typically, a graduate student is closely supervised by the adviser. As a postdoctoral scholar, the young scientist starts developing her own agenda and becomes a member of a broader scientific community."
The six doctoral students reflect a wide range of interests and research subjects. Das, for example, worked on the quantum effects of electrons moving in a two-dimensional system in the presence of a magnetic field – the quantum Hall effect.
"In my postdoctoral research I am planning to work on a different aspect of the quantum Hall effect namely, edge mode reconstruction," Das said. "Basically, in a finite quantum Hall system, the current is carried by the edge, not the whole material (effect of topology). But depending on how the edge of the sample looks this can change giving rise to very interesting results which I hope to study."
Aleksandrova started her postdoc position at the California Institute of Technology working with Brad Filippone, Francis L. Moseley Professor of Physics.
"My research here is in experimental nuclear physics with a focus on testing some of the fundamental symmetries using ultra cold neutrons," Aleksandrova said. "One of the projects that I am involved in is the Spallation Neutron Source Neutron Electric Dipole Moment experiment for which I will help design, build and test the magnetic field package. This experiment was the focus of my dissertation and my project involved designing, building and testing a magnetic field monitor system."
Ghosh, at the University of Illinois, will be exploring fundamental aspects of quantum field theories and gravity.
"My research over there will mainly involve an attempt to understand fundamental aspects of quantum field theory, string theory and quantum gravity using the holographic correspondence," Ghosh said. "This correspondence relates gravity to strongly coupled quantum field theories, which are very difficult to study in general. My research will also involve an attempt to understand the connections between quantum information theory and condensed matter systems with gravity."
And Ramachandran is working on the Muon g-2 experiment. At g-2, she is part of the team working on the measuring the magnetic field in order to calculate the anomalous magnetic moment of the muon.
"The g-2 experiment, located at Fermilab, aims at calculating the anomalous magnetic moment of the muon by exploring the interactions of the fundamental particles – muons -- in the presence of a very strong magnetic field," she said. "The main goal is to test the standard model's predictions of this value by measuring the precession rate of muons to a precision of 140 parts per billion."
"Alina, Mark, Ankur, Animik, Aaron and Suvarna belong to an excellent group of graduate students whom the department has been able to recruit over the years," Shapere said.
The Department of Physics and Astronomy leads the Commonwealth in both education and research in the study of the physical Universe, with 31 regular and five active adjunct/emeritus faculty members, including 11 Fellows of the American Physical Society and several award-winning teachers, state-of-the-art research facilities, and a new on-campus observatory. It offers a rigorous education in a supportive environment, including both undergraduate (B.A. and B.S.) and graduate (M.S. and Ph. D.) degree programs.